With the weather turning grey and very, very cold my thoughts are turning to warmer climates. So I thought I would indulge my daydream with cupcakes.
Key Lime Cupcakes with White Chocolate Cream Cheese Frosting:
I had been wanting to make these all week and finally had the chance!
These were a hit with the high school crowd!  I was told they were all gone before first period!
At the end of each summer season there is a barbecue for figure skaters and their families.  It has become expected that I bring the cupcakes.  Given that August is always hot and we were outdoors I decided to go with a summer theme and make sno-cone cupcakes.  I used the tutorial from Bakerella and they turned out beautifully.  The sparkling sugar really gives them a look of shaved ice.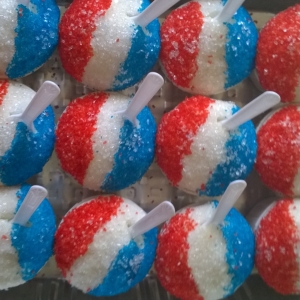 For as long as I can remember Becca's favorite movie has been The Nightmare Before Christmas. We had been talking about making a cake with this theme and I finally did. The bottom layer was decorated to mimic Sally's dress and the top layer hints at Jack's pinstriped suit. She really likes the silhouette of Jack and Sally so that was the main design on top of the cake.
She also wanted to bring cupcakes to her skating group so I made a batch that matched the cake.