Sweet 16 chocolate cake with marshmallow fondant.  Pink and purple polka dots with ribbon roses and pearl borders.
Emily has developed an interest in cacti and succulents and has an extensive collection in her room that she takes care of.  I've been dying to find an opportunity to practice my fondant skills and her 16th birthday was the perfect opportunity.  All of these succulents are edible, made from marshmallow fondant.  I wanted the fondant pieces to be the showcase, so I stuck with a square tired cake frosted with a simple texture.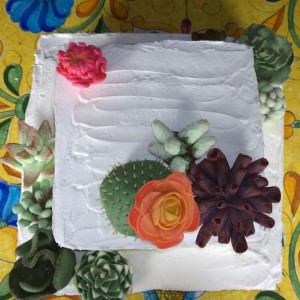 She was thrilled with the result!